It was a pleasure working with you. We learned the hard way that choosing a realtor well was so critical… You got it done and that's really what we needed.
Pierre and Steffe
I'd like to thank you and Sandra both for your assistance and guidance with the process of buying my first home! I will most definitely recommend you to friends and colleagues in the future!
Sabina Ungureanu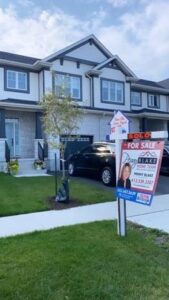 If you want to get your house sold quickly, for top dollar, there is no other realtor in Kingston I would turn to.
I have worked with Penny for the sale of our home multiple times over the years. Each time, she has surpassed our sales goal and found buyers who are the perfect fit. She does so all while working with the highest degree of professionalism and care. Selling your home can be stressful and emotionally overwhelming; Penny ensures you're feeling guided and comforted into making the right choice for you. Thank you Penny for all that you do.
Jehna Duncan
Penny Blake's team were outstanding during the entire process of getting the home ready for sale. More importantly, they were able to act very quickly when we decided to put the house on the market. Penny and her team proved very knowledgeable, patient, and always available to answer our queries. The team knows their market extremely well, and they have a process. We were overjoyed with the results of the sale of our house. Our experience was that if you follow their processes you will be rewarded with a successful sale.  The team is very, very good at what they do, and we would not hesitate to recommend them to any of our friends and acquaintances. If you want results, go with Penny Blake and her team.
The Kilburn Family
The sales process with the Penny Blake Team was thoughtful and organized.  We met with Penny a few months before we were planning to put our home on the market.  She explained the process, showed us comparables in the area, and arranged to have a professional staging team come to our home to give us advice on how to get our house set up for sale. This all gave us plenty of time to get our home ready to sell. Then a couple of weeks before we planned to put our home on the market, Penny came again to see how we were doing and gave us a few more hints on staging – minor tweaks that made a difference. The Team at her office were always readily available to answer any of our questions. We put our home on the market on a Thursday and had it sold by Monday!  We are very pleased with the services we received selling our home. Thank you to the Penny Blake Team.
Sabine Richarz & Steven Chew
We had a few questions about a new development in Kingston East, so we called Penny. She called us back within 20 minutes, and we weren't even her clients then. We were impressed, so when we decided to sell our house, we didn't hesitate to hire her.
Penny was terrific right from the start. She took us through everything step by step and told us what to expect. She was always up front about everything, which we appreciated.
Lynn and Peter Bruce
I originally approached Penny to get her input about getting our home ready for sale. When I contacted her again a year and a half later, she completely remembered who I was as well as what our home had to offer.
Penny provided excellent marketing advice for the selling of our home.
Penny constantly provided constructive positive reassurance and we found her to be a very professional business woman with a great heart.
Kim Horne
We had been living in Kingston East for four years and we decided we needed a larger home. We hired Penny to sell our house.
My husband and I felt a connection with Penny immediately. I think that is so important. If you don't feel a connection with your agent, it can't possibly be a smooth transaction. It was smooth with Penny from the start. She is very professional, but she is so much more than that. She knows the neighbourhood. She knows the base. She has a real feel for the community. She knows her market and what people are looking for.
We knew how difficult selling a house can be. My husband was apprehensive about having people through the house but Penny put him at ease. She made us aware of everything. She completely put our needs first. We felt taken care of. Penny did all the footwork and all we had to do was sit back and watch.
She brought in the home stager, which was a lot of fun. She was a class act from start to finish. I'd recommend her to anyone.
Dear Penny,
We can't thank you enough for all you have done for us. We have really appreciated your calm personality, patience and professionalism.
Although you were very busy you always had as much time as we needed and made us feel like we were the only people you were working with. Thankyou for representing us as buyers and seller.
Have a wonderful year. Thanks for everything!
Don and Sam Haisell
Here is a photo taken last weekend on the "big day". Lana and I thank you again for managing the sale of our home. Your professional approach was much appreciated.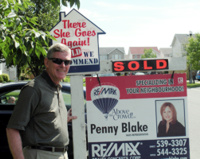 Walter and Lana Holmes
We contacted Penny on the recommendation of colleagues to list our rural property. She responded promptly to our initial contact, visited our home and provided her professional opinion on the selling price range. Prior to signing with her, Penny advised that a photo gallery of our home would be created by a professional photographer and that she had a professional home "stager" should that service be required. She also offered a few suggestions to have the house show well. Throughout our experience with Penny, she was very professional but also personable, supportive and very responsive to our questions and concerns. We would not hesitate to recommend Penny Blake to anyone planning to sell or purchase a home.
Peggy and Stephen Doist
I have known Penny Blake for a number of years, dating back to when my children were very young and Penny was, and still continues to sponsor a Holiday Gathering for all the children in the East end of Kingston in December. Her generosity in allowing all children to walk away with smiles during the holiday season is outstanding – she is truly committed to family and cares deeply about others. Penny, simply, puts the needs of others ahead of her own and as such understands what it means for families to find a home that represents "home" for them. I have personally sold and purchased a number of properties with Penny as my realtor. You could not ask for anything more from Penny as she gives 100 percent plus to her clients. I will be seeking further realtor representation in the future and know that I can turn to and trust Penny to take into consideration my needs and wants without hesitation and professionalism. Penny is truly a genuine and sincere individual. I would not hesitate to recommend her as a top notch realtor.
Cyndi Forester
Penny, you are every client's dream agent. Thanks so much for representing me as I sell my home, a most important asset. This can't be underestimated. You know very well the importance and psychology of selling houses and what it represents to a seller. You and your team have been so very responsive and experienced in your advice. I appreciate and respect you and your team very much. I will be a great reference for you, should you ever need it – although I seriously doubt that you will. You have earned your reputation step by step over the years. I am vacating Kingston, a town I loved. Live moves on. You are a fabulous professional woman. I thank you very, very much.
Lisa Philpot
I was apprehensive about selling my home as I had a short timeline, however Penny and her team were very understanding of my needs. Penny was able to sell my home by generating multiple offers as well as receiving above asking price all within two weeks.
Laurie Thomas
Thanks a million for all your hard working in quickly selling my home. Against my better judgement I initially choose another agent recommended by my mortgage broker with not even one offer after listing over the peak selling period. I couldn't believe when I listed with you in December the amount of times you hosted an open-house. Not rain, snow, sleet or hail stopped you! The benefit of your own extensive client base contributed to the number of showings and a successful first offer within a short period of time. I would highly recommend you to anyone selling or purchasing a home (I'm sure the homebaked cookies you made and flowers you brought helped tremendously). Your dedication and honesty is evident and although you're a very busy lady, you were always available for me. Thank you again, I couldn't have done it without you
Mary Jackson
Thank you for your hard work negotiating and selling our 88 Kenwoods Circle. We appreciate all you and your staff did to help us make our move. Please come to visit us in our new beautiful home.
Again thank you so much for everything.
Maria and Jacinto Amaral
We can't thank you enough for your exemplary service this week! We are absolutely delighted with the quick (and painless!) sale of our home and purchase of our new home – we couldn't have done it without all your guidance and effort! From our whole family, THANK YOU!
Bonham Family
Penny is part of the community and sponsors local teams.:
This year I wanted to thank you for sponsoring Jillian over the last 4 years. Your support has enabled her to have a wonderful sporting experience. She has made friendships that will last a lifetime. She has learnt the true meaning of "team" and she has learnt that nothing can beat hard work.
Thank you for helping her to become a leader and a team player. Thank you for helping her to believe in herself.
Jocelyne Halladay Greenwood Park
Consider this a rave review of your star performance! Thanks for doing a great job with the sale of my home.
Shelly Landry
Our lovely restored old limestone home was obviously not laid out the way everyone would have liked. It was on the market for a while.
During that time Penny never stopped marketing the property and working behind the scenes to encourage interested potential buyers to explore the possibilities the property offered. She advertised on many levels including many metropolitan areas and in Asian publications. We never felt the need to switch realtors as we knew Penny was giving it her all and we trusted her with our sale. In the end we had multiple offers and Penny manoeuvred the resolution of the sale. We would not hesitate to sign on with Penny again in the future.
Daryl Bell and Donald O'Higgins
From our first meeting Penny Blake, we knew we were in professional hands. With a very specific type of property and location in mind, Penny's depth of experience in the Kingston and area markets enabled her to provide us with insightful information. During our house hunting time Penny was able to point out specifics within the homes that were both advantages and disadvantages from both a construction and design aspect, as well as potential renovations that could be done quite easily. And, when it came to offer and negotiate Penny was a very shrewd negotiator and new exactly how to position our offer. Would we recommend Penny Blake? Absolutely.
Gord and Judy Sadler
Thank you for everything! We are so excited about our sale and our move to a new home and a new lifestyle. You are an amazing Team.
Joanne and Mike Thompson
I want to thank you from the bottom of my heart for all your efforts to sell my home. From the staging of my home and making it so beautiful in preparation for placing the house on the market to the negotiating of my home and selling my house for well over the list price. Thank you so much.
Eugenie Bruce
Dear Penny,
First of all, thank you very much for all your hard work, professionalism and dedication to excellent client care.
Both Jen and I are very impressed with you and your team.
Your ad in the paper really speaks volumes. Including photos and names of the members of your team shows how much you care for every one of them. Thank you so much for your caring attitude.
Jennifer and Hamid Nam
Thank you Penny and Sandra for contributing lots of time and hardwork towards the Sale of our home.
The Dyer Family
Thank you to you and your staff for listing and selling my home at 1311 Waterside Way. You and Sandra were very helpful and professional.
Patricia Clark